...And this is today's bento.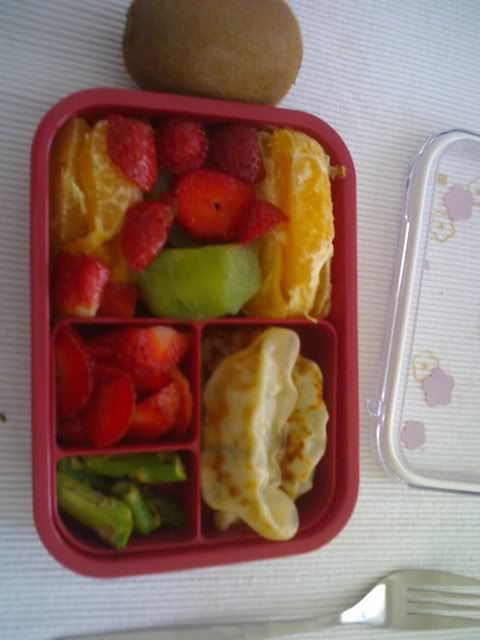 [1]
We have been eating rice and pasta every day since I prepare bentos and that's way much carbs for what we are really used to. Also, yesterday I went with a friend to the local market (I didn't know it even existed) so she could show me where to buy and to whom. Everything was so appealing so I ended up buying lots of fruit. I mean lots. I bought so much things that I forgot to buy the food I actually needed so I had to come back today after work, lol!
My husband loves fruit so, as he had a very bad day yesterday I decided to prepare a almost-all-fruit bento.
So the bento contains: kiwi, orange (which was gorgeous, btw), strawberry, roast asparagus and some gyozas).
I find gyozas very handy for those days when you find out you have no meat in the fridge :)
I know they are not that healthy but..........
Also, I don't like to buy meat here because it's not that good. I'm used to the meat that my parents buy in the village near Madrid in which we spend summer :)
Anyway I managed to roast the asparagus with no oil which was good.
I'm so happy I managed to prepare more than 10 bentos! :D I find this challenging and also very funny and creative :) Apart from the money-saving issue ;)